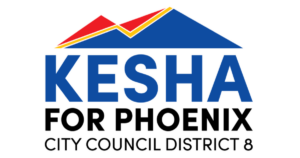 YOUR
Advocate for District 8
We know change happens one person at time. TOGETHER, we can effectuate the change that is needed. With your support and generosity, we will have the resources needed to connect with voters in District 8 and win this election. Contribute to help Kesha get elected — every dollar counts. DONATE TODAY.
To make an online donation, click the button below:
To mail in a donation, please follow these instructions:
Make check, money order or cashier's check payable to: 
                                 "Kesha For Phoenix" 
   2. Mail check, money order or cashier's check to: 
                                  Kesha for Phoenix, 
                                  P.O. Box 620
                                  Laveen, Arizona 85339             
   3. Be sure to include your first and last name, mailing address, occupation, and name of your 
       employer. That information is required for campaign finance reporting.
Thank You For Your Campaign Donation!!!