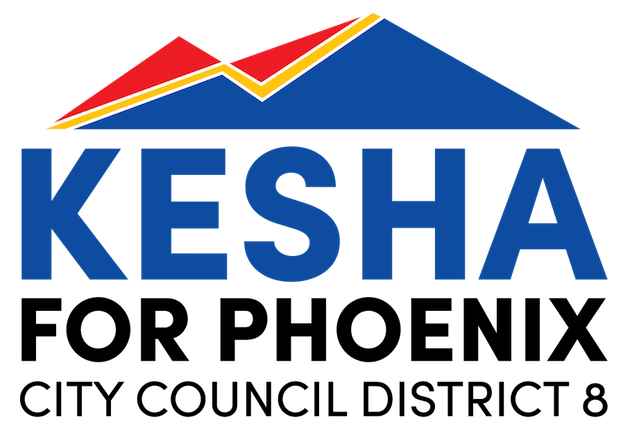 YOUR
Advocate for District 8
YOUR Advocate for District 8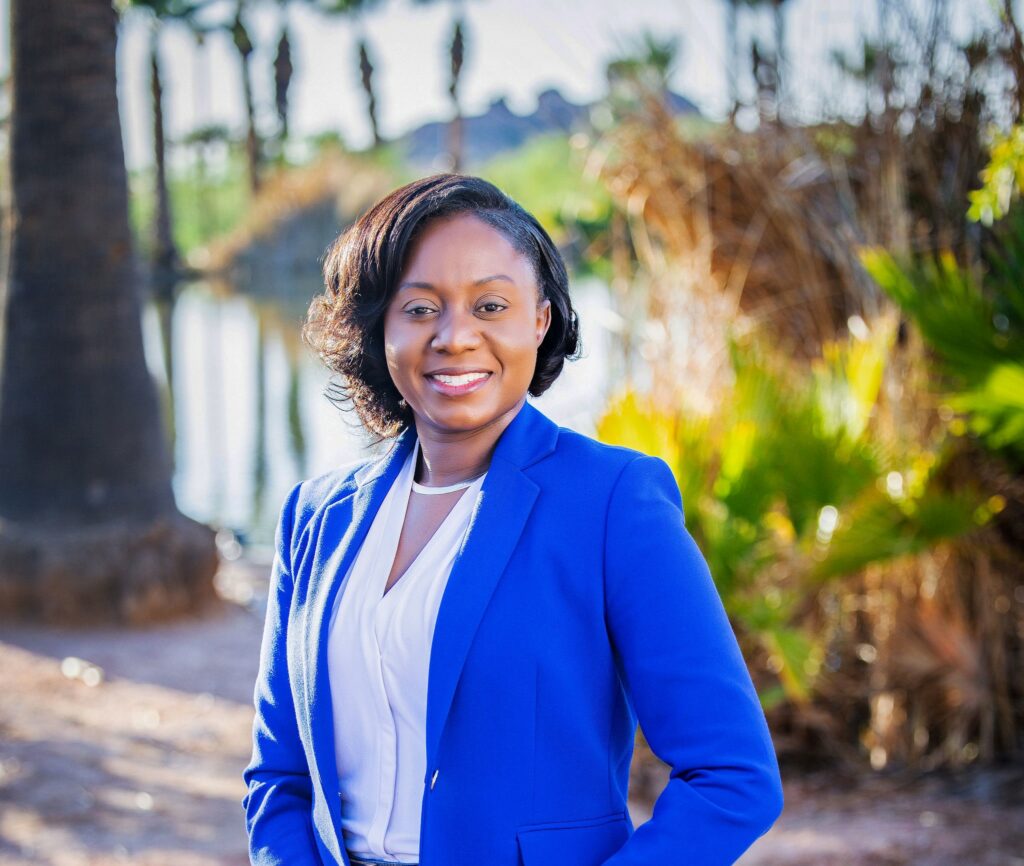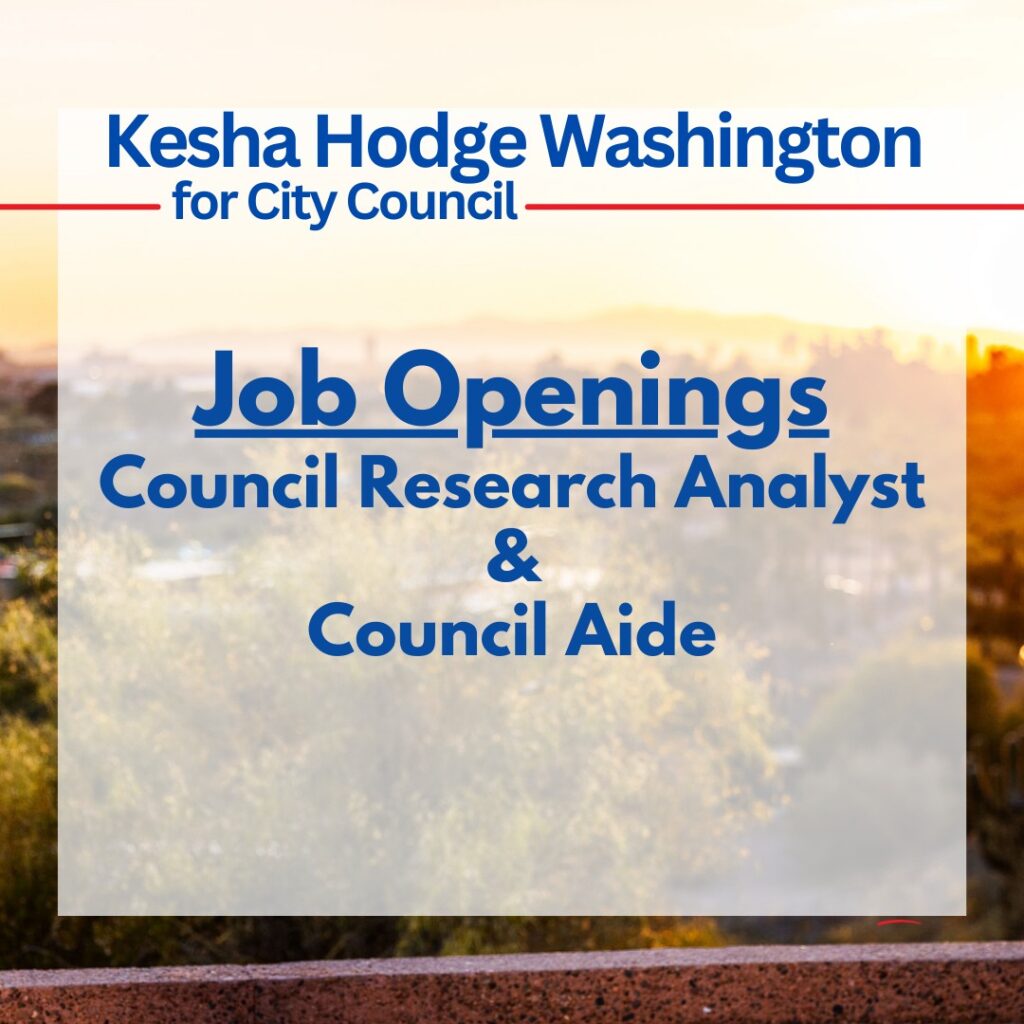 As we get ready to serve District 8, my office is hiring staff, namely Phoenix-based research analysts and a council aide focused on constituent services.
Please see job descriptions below. Send resumes and cover letters/statements of interest d8jobs@phoenix.gov with subject "Council Research Analyst" or "Council Aide." Applications will be accepted until Friday, April 7th.
Wow!  After a dead heat for first place in the November general election, Kesha is heading into a runoff on March 14, 2023.
Kesha is extremely proud to announce that she has been endorsed by Arizona Secretary of State Adrian Fontes, Phoenix Mayor Kate Gallego, U.S. Congressman Greg Stanton, and former Attorney General Terry Goddard!  
Scroll down to "Get Involved" in this exciting campaign.
Kesha Hodge Washington has been active in the City of Phoenix, District 8, for over twenty years. She has and continues to volunteer and serve in many areas, from voter registration and civic engagement to providing food and basic necessities to individuals in need. The current issues facing District 8 require an intentional, strategic, and comprehensive approach.
She moved to Arizona from the U.S. Virgin Islands in 1999 and has been active in Phoenix ever since. The daughter of a mechanic and a bookkeeper, Kesha is a first-generation college graduate who earned her bachelors degree from the University of the Virgin Islands and her law degree from Arizona State University College of Law.
Kesha is a former Assistant Attorney General who practiced law in Phoenix for 20 years. After graduating from law school, she clerked at the Arizona Court of Appeals for Honorable Cecil B. Patterson and then as a senior law clerk to Honorable Maurice "Mo" Portley. She served as Assistant Attorney General working to protect children in physically and sexually abusive environments, was later appointed Special Deputy Attorney General to investigate and prosecute election law violations by former Maricopa County Sheriff Joe Arpaio, and routinely provided free representation to tenant families and individuals facing eviction. Kesha also successfully represented consumers getting ripped off by big insurance companies who—after collecting years of premiums—refused to pay out the promised benefits.  Her twenty years of experience in law firm, government practice, and in-house settings has given Kesha valuable insight on how to effectively achieve results.
Kesha has always been determined. She has put that determination into action in courtrooms and in her work to raise scholarship money for high school and college students, mentor young women, and provide free legal services to those in need. Kesha is active with a number of organizations including Delta Sigma Theta Sorority, Inc., Cottonfields Homeowners Association, and the American Bar Association.  
Kesha is a professional problem solver, lawyer, consensus builder, and a passionate leader committed to the constructive development of our community. Never one to sit on the sideline, Kesha believes in leading by example and is ready to zealously advocate for District 8 and bring a fresh perspective and innovative solutions to Phoenix City Council.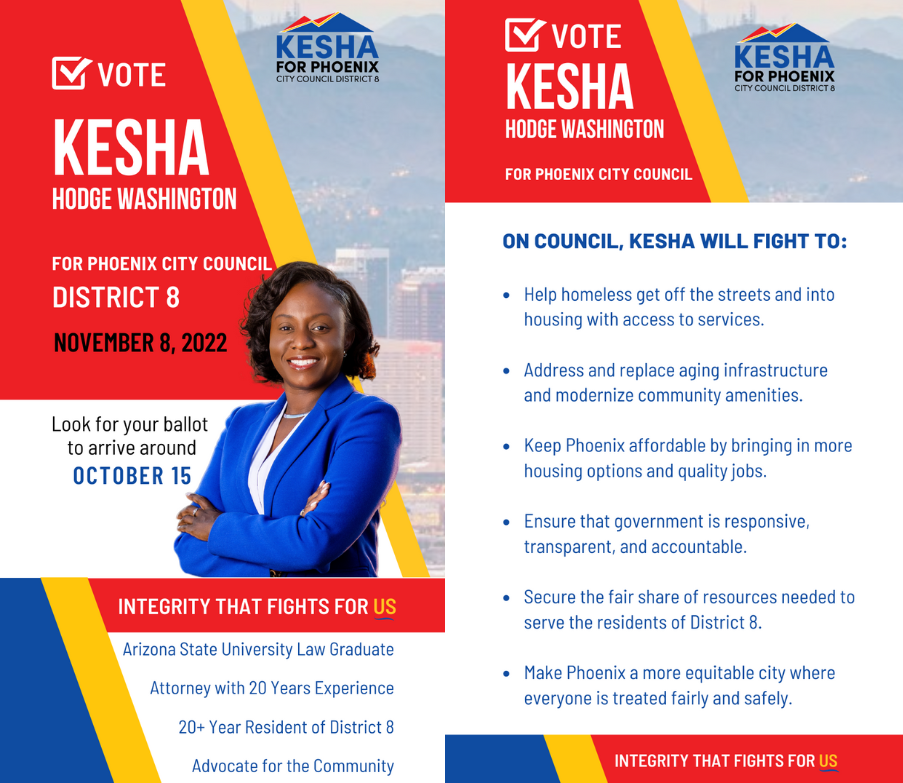 On Phoenix City Council, Kesha's priorities will center on intentional, strategic, and comprehensive approaches to:
Enthusiastically Supported by
Enthusiastically Supported by
Greater Phoenix Chamber of Commerce
Home Builders Association of Central Arizona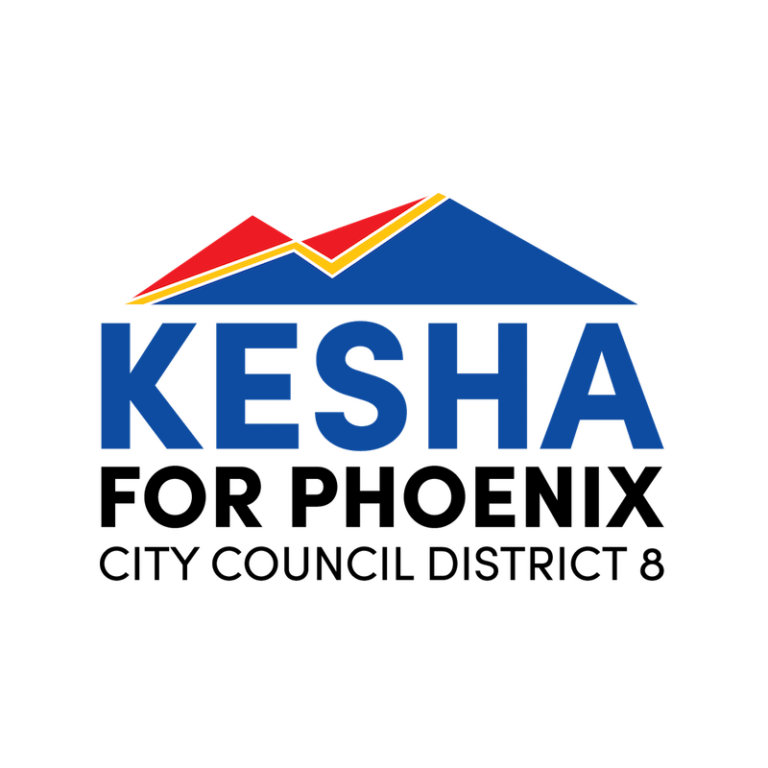 We would love for YOU to join the team. All demographics and talents are welcomed.
Support
Kesha For Phoenix
We know change happens one person at time. TOGETHER, we can effectuate the change that is needed. With your support and generosity, we will have the resources needed to connect with voters in District 8 and win this election. Contribute to help Kesha get elected — every dollar counts. DONATE TODAY.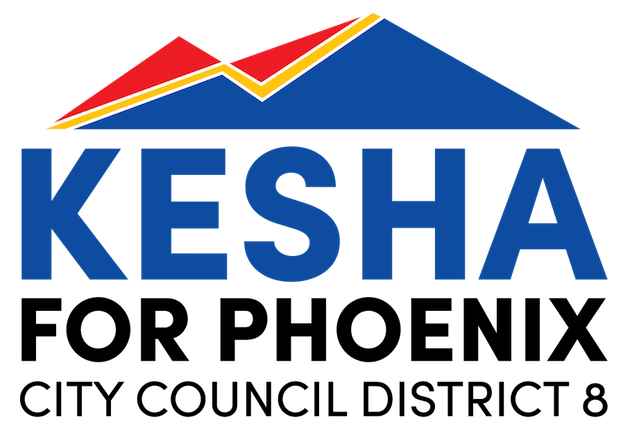 If you prefer to donate by check, please make it payable to "Kesha For Phoenix" and mail to: Kesha for Phoenix, P.O. Box 620, Laveen, Arizona 85339. Be sure to include your first and last name, mailing address, occupation, and name of your employer. That information is required for campaign finance reporting.
Subscribe for Campaign Updates
Countdown To
Election Day
September 14, 2022 , 3:30pm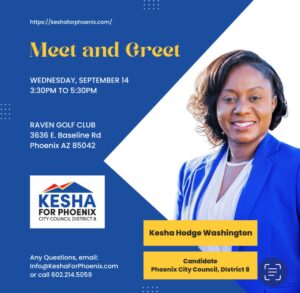 The Raven Golf Club
3636 E. Baseline Road
Phoenix AZ 85042
September 26, 2022, 6:45pm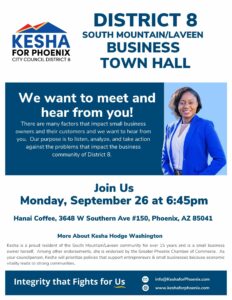 Hanai Coffee + Beer + Wine
3648 W. Southern Avenue, Unit 148
Phoenix, AZ 85041
September 28., 2022 , 6:00pm
Candidate Forum
Garfield Historic Neighborhood
Phoenix Alwun House Foundation
1204 E Roosevelt
Phoenix, AZ 85006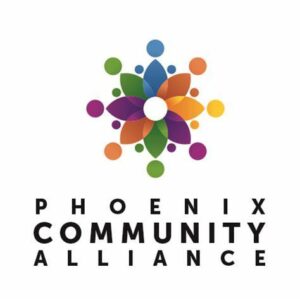 Phoenix Community Alliance Council
Candidate Forum
Details Forthcoming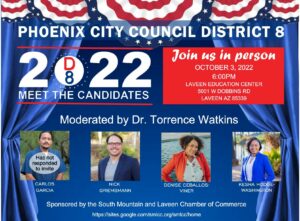 Meet the City Council Candidate
South Mountain/Laveen Chamber of Commerce
Laveen Education Center
5001 W Dobbins Rd
Laveen, AZ 85339


2022 SRP PIC Picnic
SRP's Event Headquarters – PERA
1 East. Continental
Tempe AZ 85281